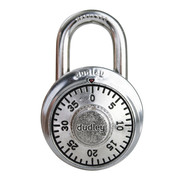 Click to Enlarge
Dimensions:
A – 7mm (.28in)
B – 19mm (.75in)
C – 21mm (.81in)
Body Width – 48mm (1.88in)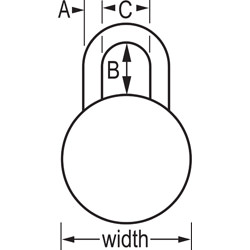 Model No. DYRP100
dudley® special needs lock requires only ONE number combination to remember.
Features:
1-digit combination with automatic scrambling feature to prevent reopening of lock
Includes combination chart to facilitate lock system administration
Double-reinforced stainless steel body withstands abuse
Hardened steel shackle for extra cut resistance
Best Used For:
Lockers
Equipment Storage
Cabinets
How to Order
E-mail your school's purchase order to neworders@mlock.com.
Customer service will call you back to confirm order.
For more information, contact Customer Service at 1-800-227-9599.