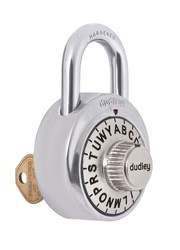 Click to Enlarge
Dimensions:
A – 7mm (0.28in)
B – 19mm (0.75in)
C – 21mm (0.81in)
Body Width – 48mm (1.88in)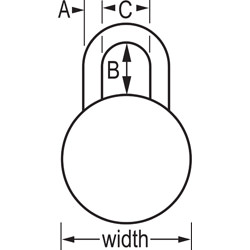 Model No. DYMK301MK
dudley® introduces 3-letter combination lock with key override function. This function gives school officials key control over ALL locks on that key system.
Features:
Letter Lock™ - Popular combination lock with easy to dial and remember 3-letter combination with automatic scrambling feature to prevent reopening of lock
Key control feature achieves supervisory access: One key provides school officials immediate access to all locks matching the existing system or factory assigned
Easy to remember phrase included with each padlock for additional convenience
Includes combination chart to facilitate lock system administration
Patented BlockGuard® Anti-Shim Technology withstands attempts to violate the latch mechanism
Double-reinforced stainless steel body withstands abuse
Hardened steel shackle for extra cut resistance
Best Used For:
Lockers
Equipment Storage
Cabinets
How to Order
Send in your order:

Fax to 1-800-229-0081 on your school letterhead or on a school purchase order form.

E-mail neworders@mlock.com, provide us with the school name and full address.
Customer service will call you back to confirm order.
For more information, contact our customer service department at 1-800-227-9599.