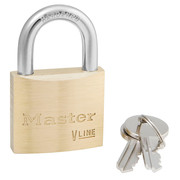 Click to Enlarge
Dimensions:
A – 6mm (0.25in)
B – 21mm (0.81in)
C – 21mm (0.81in)
Body Width – 40mm (1.56in)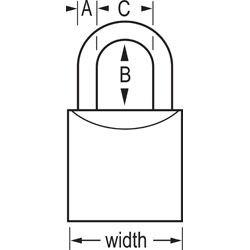 Model No. 4140KA
The Master Lock 40mm brass padlock with keyed alike technology. This function gives school officials key control over ALL locks on that key system.
Features:
Keyed Alike - Order multiple locks to open with the same key
Key control feature achieves supervisory access: One key provides school officials immediate access to all locks matching the existing system or factory assigned
Pin tumbler cylinder provides greater pick resistance
Hardened steel shackle for excellent cut resistance
Brass body and cylinder provide extra resistance to the elements
Best Used For:
Cabinets
Equipment Storage
Fences
How to Order
E-mail your school's purchase order to neworders@mlock.com.
Customer service will call you back to confirm order.
For more information, contact Customer Service at 1-800-227-9599.